As mentioned in my previous post, the idea of this new blog is a.o. to share with you some bits of our lives, but also information about Paris and some advice based on our experience of the city. But when it comes to advising, what could we better talk about than our own neighbourhood? ?
We live in the XXe arrondissement, right between Belleville and Ménilmontant. Our neighbourhood is almost on the top of the "colline de Belleville", with a harsh slope to climb with a bike, but easy peasy with the metro or the bus. So you have no excuse to come by say hi and enjoy the great artisans, commerces and secrets we have here!
We won't draw you a special walk, but prefer to give you some tips around on both sides of rue de Ménilmontant so that you can make your own way around. Just take bus 96 and stop at Ménilmontant-Pyrénées. Enjoy our picks and don't forget to wander around and get lost in the small charming streets of Ménilmontant and live Paris like a local and… without tourists!
WHAT TO SEE IN MÉNILMONTANT
Rue du Retrait
The Rue du Retrait is well-known for the colourful murals that have illustrated its buildings for years. In the 1990's, the first French street-artists took over the street as one of their very first playgrounds in Paris and the taste for paint has remained. Today, a local association invites artists for a "Mois du Ratrait" during which they can propose new murals around one topic; the last one took place in 2017 and gave birth to 7 murals around Vegetation.
Jardin des Soupirs
18 Passage des Soupirs, 75020 Paris – jardindessoupirs.wordpress.com
Hidden in the middle of the Passage des Soupirs, between rue de la Chine and rue des Pyrénées, the Jardin des Soupirs is one of those peace havens you would like to see more often in town. The place was saved by locals from real estate promotions. Today, it is a rich collective garden of 300 sqm that promotes a respectful gardening and a relax way of life. The garden is open on Saturdays and Sundays and every time a member of the association is around.
Pavillon Carré de Baudouin
121 Rue de Ménilmontant, 75020 Paris – pavilloncarredebaudouin.fr
Although quite discreet behind its large façade giving onto the crossroads between rue de Ménilmontant and rue des Pyrénées, the Pavillon Carré de Baudouin proposes a cultural program of diversified and original exhibitions and lectures for unbeatable price: everything is free! You can check out their program here pavilloncarredebaudouin.fr and be prepared to get surprised!
Have a look as wel at the wall around the Pavillon Carré de Baudouin. It changes according to the exhibitions and every 3 months, the association Art Azoï invites a new street artist to have fun on assaults the 50-metre-long wall with his/her art.
WHAT TO BUY IN MÉNILMONTANT
Bread at Pane Vivo
49 Rue de la Chine, 75020 Paris – panevivo.com
Pane Vivo is THE new bread in town you should not miss! Adriano Farano opened his bakery in March, 2 weeks before the lockdown, with the goal to bake bread for the best tables of Paris. But with the restaurants having to shut down, he decided to open his bread lab to the district and soon became a hit! His bread is made using a 130-year-old sourdough, which gives it a rich and enchanting scent as well as taste and –more importantly– make the bread one of the healthiest possible! We were among the first customers of Pane Vivo last March and haven't bought our bread anywhere else ever since!
Pastry at Benoît Castel
11 Rue Sorbier, 75020 Paris – benoitcastel.com
We are very lucky to have 2 Benoit Castel pastry shops in our neighbourhood. During the lockdown, walking to his shop to buy a cake gives us a feeling close to celebration and luxury indulgence. The newest shop on rue Sorbier has stunning mosaic wall and ceiling and a secret vintage tea salon in the back. But we shouldn't forget to mention the pastry, of course, which is the first and best reason to go there!
Fruits & Vegetables at L'Épicerie Vintage
4 Rue Sorbier, 75020 Paris – lepicerievintage.fr
Ever wanted to hit two birds with one stone, and buy organic fruits & vegetables and vintage objects in the same place? L'Épicerie vintage is the place for you! The rustic countryside charm of this unique local grocery store seduces right away! Every product is carefully sourced, from homemade jam to rattan chairs – eating healthy and redecorating in style has never been so cool!
Books at Monte-en-l'air
2 Rue de la Mare, 75020 Paris – montenlair.wordpress.com
You shouldn't leave Ménilmontant without dropping by at the Monte-en-l'air, a local institution. The place specializes in rare and underground editions and proposes a very rich offer in terms of contemporary poetry, imports, fanzines and graphic novels. They also organize readings, signing sessions or concerts, gathering a whole bunch of cool people to talk to through the night!
WHERE TO EAT OR HAVE A DRINK IN MÉNILMONTANT
Place Maurice Chevalier
Just in front of the église Notre-Dame-de-la-Croix de Ménilmontant, the square and the block between rue Julien Lacroix and rue du Liban is the new place to eat & drink, with new spots opening every now and then. Our local picks? Crème, of course, a yumie fromagerie proposing rare and quality cheese, and the Dilia for their perfect French-Italian mix and nice atmosphere!
Le mezze du chef çiğ köfte
80 Rue de Ménilmontant, 75020 Paris – instagram.com/lemezzeduchef/
Ever heard of a vegetarian Turkish restaurant? Well now you have! And prepare to be overwhelmed by their delicious mezzes and the chef's specialty – the çiğ köfte, a sort of meat ball with bulgur replacing the meat, and other secret ingredients that will rejoice your taste buds!
Là-Haut
10 Rue Pixérécourt, 75020 Paris – lahautparis20.business.site
If a place deserves its name, it's definitely this one! Located on top of Ménilmontant, Là-Haut (meaning "Up There") is a cosy local restaurant with a cheerful authentic vibe. The food is typical French bistro cuisine with daily specials and the place is open all day long, so you can also enjoy the terrace to take the apéro!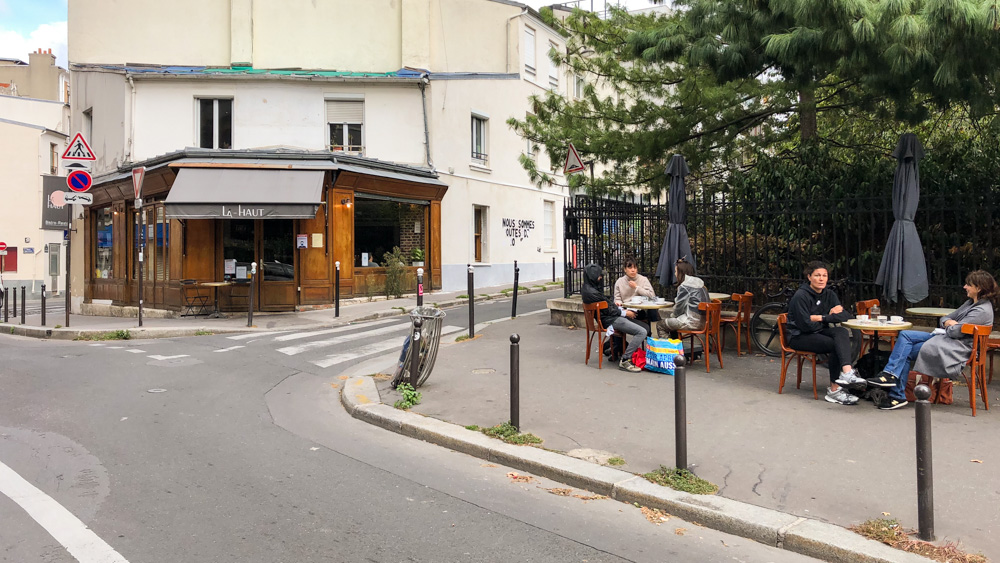 ? And if you want to know more about the district, don't hesitate to follow us on the Walk of Ménilmontant – A surprising guided tour addressing street art, water management and "Matrimony", all under Willy Ronis's poetic eye and Maurice Chevalier's joyfulness!